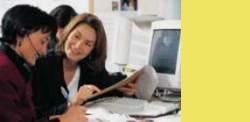 Principals, Consultants, Engineers, and Affiliates
Our staff consultants deliver services and solutions based on many years of industry and academic experience. Advanced degrees, certifications, and extensive practical operations experience enable the Triad team to deliver quality services and better understand the client's point of view. Each of our practice leaders has over 20 years of senior management experince with leading-edge global logistics organizations such as Federal Express, Ryder Systems, Blockbuster, and UPS. Because our principals have managed these global transportation and distribution operations, they have a unique understanding and appreciation for the issues our clients face in their day-to-day experiences. This experience "in the trenches" gives us the ability to effectively benchmark industry best-practices and insure the most practical and realistic solutions.
Strategic Alliances, Vendors and Specialized Services
Our network of strategic alliance partners, vendors and specialized service providers enhances the scope of quality services that are available to our client partners. Our extensive provider network delivers nothing less than best-in-class equipment, leading-edge technology or unique services. Lean Methods in Distribution, Customized Returns Programs, Third-Party Logistics Management Services, or Collaborative Transportation Management are available through our alliance partners.