Triad Logistics Partners

Supply-Chain Solutions for Tomorrow, Today!
Distribution Operation Design & Management Support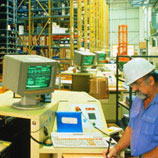 Inventory Management Support Services
Utilizing our TEAM-3PL resources, we can provide the qualified support that you need to complete your project objectives without having to pull resources from your existing operations. Cycle-counts, Physical Inventories, Inventory audits and reconciliation, stock rotations, facility re-sets, re-slotting, and many other special project activities can be accomplished without a hinderance to your base business activities.
Interim Management and Recruiting Services
Our entire team of consultants has had extensive practical experience in transportation and distribution operations management. Our diverse experience supported by a network of skilled contract resources enables us to provide interim operations management services as well as assistance with permanent resource recruitment. Our diverse experience developing management resources gives us a unique ability to locate qualified applicants with experience that best fits our client's needs.
© Copyright 2003. All rights reserved. Triad Logistics Partners, LLC